Collaboration Is Our Competitive Edge!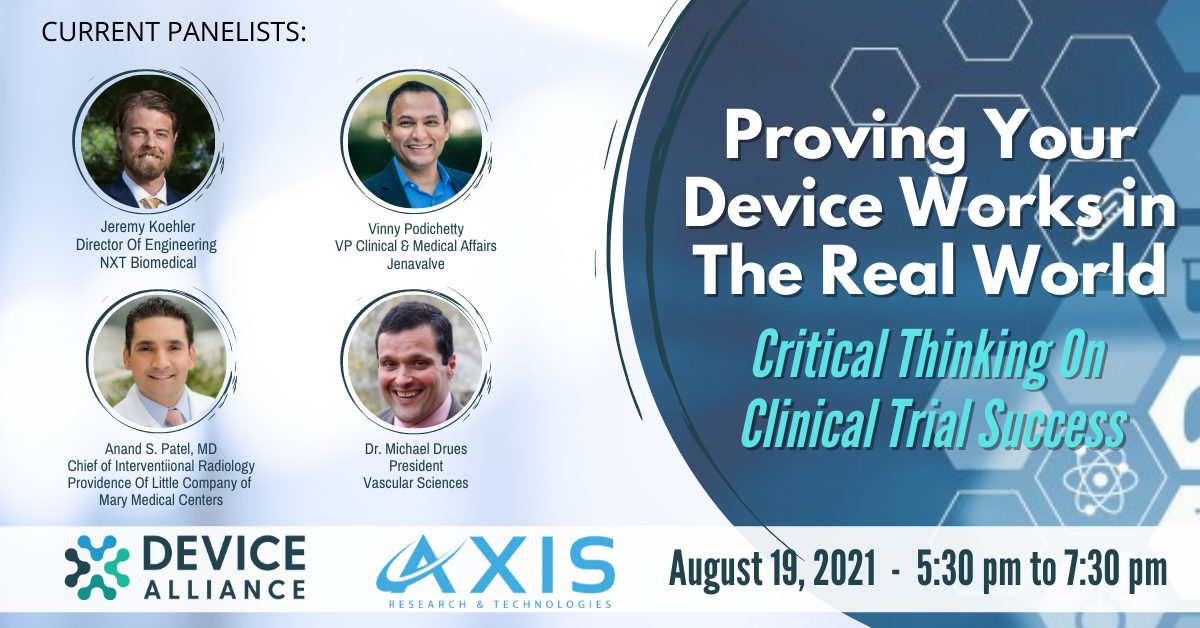 PROVING YOUR DEVICE WORKS IN THE REAL WORLD
Thursday, August 19 @ 5:30 pm – 7:30 pm Pacific
You've got a great idea for a medical device!  Now what? Most errors in clinical trials are a result of poor planning. Fancy statistical methods cannot rescue design flaws. Thus careful planning with clear foresight is absolutely crucial for clinical trial success.   With the explosion of Medtech opportunities for startups, what are the current best standards for ensuring the success of your design and clinical trials? Join us as our panel of experts discuss the best-shared practices to ensure you avoid…
Register TODAY!
Our mission
DeviceAlliance strives to be the one-stop-shop at the center of the medical device ecosystem helping drive collaboration, innovation and career development for all device professionals in Southern California.
DeviceAlliance is the only multi-disciplinary, non-profit, professionals association serving the medical device industry in Southern California.  That's why we're the ideal place to help support medical device professionals as they formulate start-ups, expand market share for a Fortune 500 corporation or grow their individual careers.
What We Offer
DeviceAlliance is your competitive advantage in the medical device marketplace. We're a group of talented and successful medical device professionals who help foster relationships and career growth ensuring the prosperity of OC's medtech community.
Collaboration
Collaboration among members is an outcome of our willingness to serve each other. Living this core value builds trust among our members and trust leads to collaboration.
Learn More
Mentorship
We believe in giving back, helping professionals of all disciplines and ages advance their careers.
Learn More
"Tell me and I forget, teach me and I may remember, involve me and I learn."
-BEN FRANKLIN
Home Page