Upcoming Event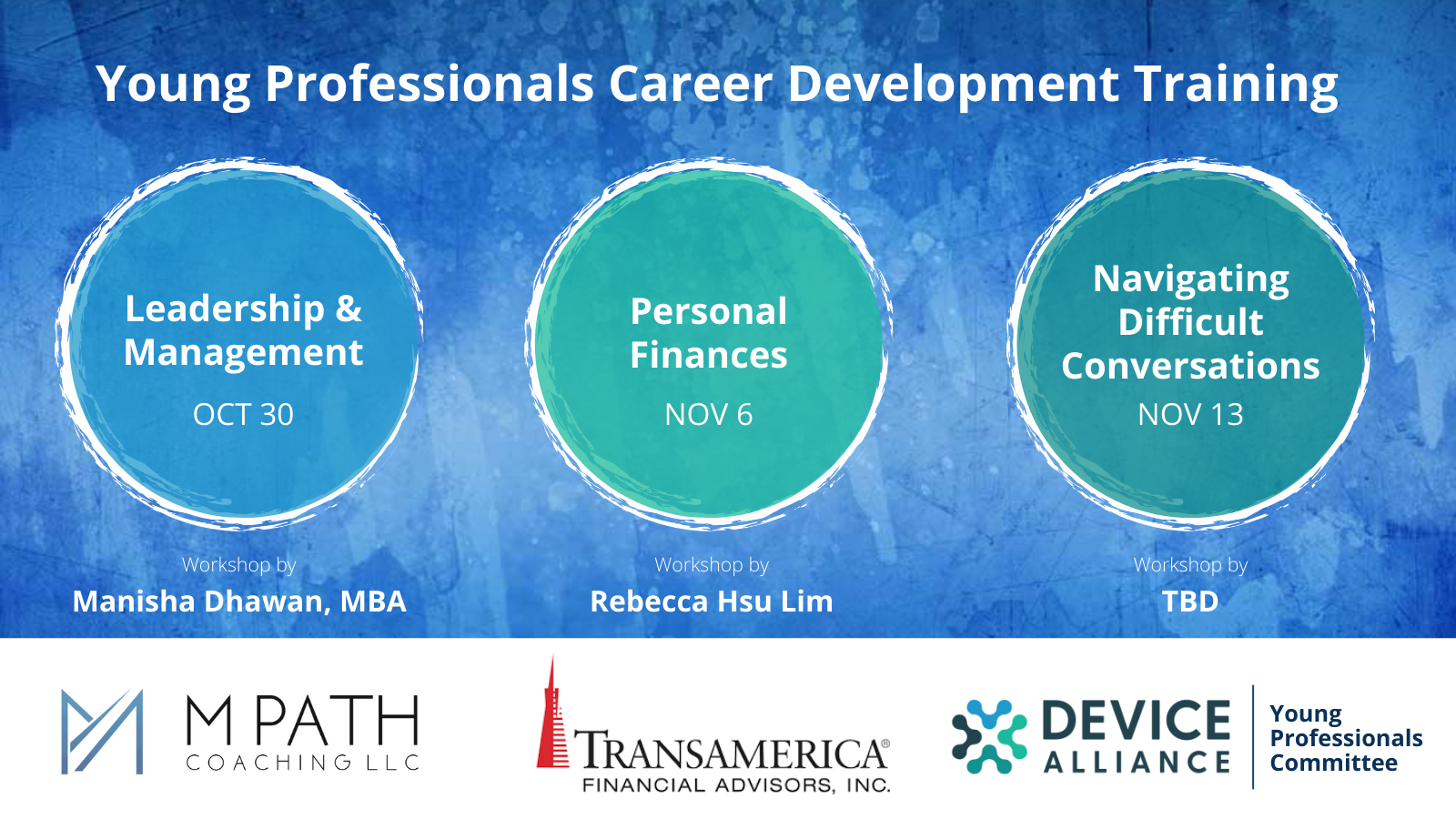 Young Professionals Career Development Workshop Series
Saturdays, October 30 – November 13 @ 10:00 AM – 11:30 AM Pacific
DeviceAlliance Young Professionals Committee presents a continuation of the 2021 Level 1 Career Development Training Series offered earlier this year. Level 2 will focus on success beyond the job search and begin to develop skills to help a young professional flourish in their career. There are 3 workshops including the following:
Oct 30

Leadership And Management Development For Young Professionals

Nov 6

Fundamentals Of Personal Finance: Obtaining Financial Stability

Nov 13 Navigating Difficult Conversations
Our mission
DeviceAlliance strives to be the one-stop-shop at the center of the medical device ecosystem helping drive collaboration, innovation and career development for all device professionals in Southern California.
DeviceAlliance is the only multi-disciplinary, non-profit, professionals association serving the medical device industry in Southern California.  That's why we're the ideal place to help support medical device professionals as they formulate start-ups, expand market share for a Fortune 500 corporation or grow their individual careers.
What We Offer
DeviceAlliance is your competitive advantage in the medical device marketplace. We're a group of talented and successful medical device professionals who help foster relationships and career growth ensuring the prosperity of OC's medtech community.

Collaboration
Collaboration among members is an outcome of our willingness to serve each other. Living this core value builds trust among our members and trust leads to collaboration.
Learn More

Mentorship
We believe in giving back, helping professionals of all disciplines and ages advance their careers.
Learn More

Apply
Apply for membership today and gain competitive career advantage!
Collaboration Is Our Competitive Edge!
Home Page